MACROSS DELTA VB-6 KÖING MONSTER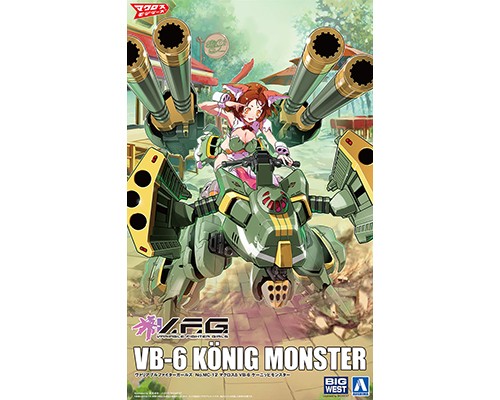 Brand

AOSHIMA

Series

ACKS MC-12

Scale

Non

Release Month

2023.11

Price

JPY14,850‐(tax included)

JAN Code

4905083-064283
Impressive scale and weight! Köing Monster will be the first plastic model in the VF Girl series!
From the Variable Fighter Girls (V.F.G.), the "VB-6 Köing Monster" is now available as a plastic model kit for the first time! Each form of "Shuttle Mode", "Gerwalk Mode", and "Destroid Mode" can be reproduced with the transformation of the aircraft alone. In addition, the coloring of the aircraft is based on the design of Captain Alberto Larrazabal, ace pilot of the Voldor Air Wing, and the Girl is a Voldorian with waitress-image cat ears and a tail. The Girl and the Mecha will be presented in an overwhelming volume for all directions!
Color-coded molding, glue-free snap kit
Enables reproduction of dedicated coloring by applying the included stickers and decals
Shuttle, Gerwalk, Destroid mode can be reproduced in three forms of the aircraft alone.
The aircraft livery is Voldor Air Wing "Alberto Larrazabal" specifications
The girl is a Voldorian with cat ears and tail.
Comes with pre-colored face parts.
[Product Specifications]
Scale: non-scale
Size: Overall length (Shuttle): approx. 225mm
        Overall height (Destroid): approx. 280mm
        Body height: approx. 155mm
Material: PS/ABS/P
・VC・the aircraft can be reproduced in three forms by deformation and partial part reconfiguration
・Snap kit model that does not require glue
・Color-coded molding
・Two types of pre-colored face parts, two types of non-colored face parts included
・Sticker for coloring reproduction, eye decal included
*The base is not included.
*The image is a prototype. The actual product may differ.
*This product is a plastic model kit. Tools are required for assembly.