Neo Emperor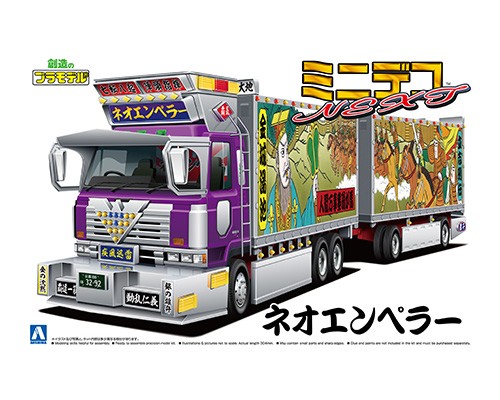 Brand

AOSHIMA

Series

1/64 MINIDEKO NEXT Vol.8

Scale

1/64

Release Month

2022.4

Price

JPY2,200‐(tax included)

JAN Code

4905083-064122
The 1/64 Mini-Deco NEXT series, with its cute palm-sized body and full-ship decorations, is an introductory model of decotras for young people. You can build it according to the assembly diagram or make it your own original decotora!
Large box truck full-trailer
Panel seal/lantern seal
Special full-track chassis
Detachable trailer
Special full trailer chassis
Plated finish on each part
Three-color marker lamps
Total length approx. 304mm
Uses 18 tires for mini-deco.
This product uses a mold made in the 1980s.