GATTAI MUSASHI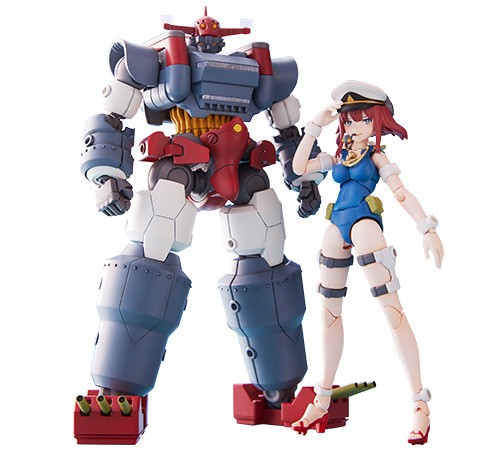 Brand

AOSHIMA

Series

ACKS GR-03

Scale

Non

Release Month

2022.7

Price

JPY11,000‐(tax included)

JAN Code

4905083-062920
The "Gattai Robot Musashi" is back with a new Gattai series!
In the 70's, the "Combined Giant Ship Yamato" left a strong impact with its innovative design where the bridge of the ship became a robot. That bridge robot, "Combined (Gattai) Robot Musashi," is now back with a beautiful girl as the third figure in the "New Gattai Series," "GATTAI Musashi"!
The kit includes "Gattai Robot Musashi" and "Nagisa Jinguji".
The "Gattai Robot Musashi" has been rearranged from the original design to give it a more massive styling with a heavier presence.
The "Gattai Robot Musashi" has a common frame structure and comes with joint parts that allow you to freely exchange and reassemble parts.
It can also be reassembled with the parts of the "GATTAI ATLANGER" (already released).
The "Gattai Robot Musashi" can be separated into four machines.
The "Gattai Robot Musashi" can be recreated almost exactly as it was designed by simply assembling it, thanks to the parts division and color coding.
The newly designed chimney cannon, drill and anchor rod are all included.
Nagisa Jinguji's body is the same as the rest of the series, allowing you to pose her in any way you like.
Nagisa also comes with 5 different hand parts and 3 different face parts that allow you to pose her in a variety of different situations.
Nagisa Jinguji also comes with face parts without tampons and expression decals for even more poses.
Nagisa Jinguji comes with two hair parts: a normal hair part and a cap hair part.
You can attach the parts of "Gattai Robot Musashi" to "Nagisa Jinguji".
Scale:non
Size:Gattai Robot MUSASHI Height: approx. 175mm
Girl figure (Nagisa Jinguji) Height: approx.140mm
Material: PS/ABS/PVC
Specifications: Plastic model
Snap method, no glue required kit
Color-coded molding
Mechanic and character design: Ryuichi Sadamatsu
Armed Parts Design: Keita Yagyu (Rampage)
Design: Rampage
Planning and Promotion: HAL-VAL Co.
Original Story: Aoshima Bunka Kyozai Co., Ltd.
Gattai Robot Musashi: Armed parts "Chimney Cannon", "Drill", "Anchor Rod", "Z Shield", "Cord Fender".
Nagisa Jinguji: 3 types of replaceable faces: "smile", "smile with oxy pipe", "screaming face".
Nagisa Jinguji: 1 type of face without tampo, expression decal
Nagisa Jinguji: 5 kinds of hand parts: "normal hand", " holding hand", "gripping hand", "flat hand", "peace".
Nagisa Jinguji: 2 kinds of hair parts "Normal" and "Cap".
8 kinds of general-purpose joint parts
*The image is a prototype and has been painted for photography purposes. It may differ from the actual product.
*This product is a plastic model kit. Tools, etc. are required for assembly.