3 1/2t Truck (SKW-476) w/Field kitchen & Water tank trailer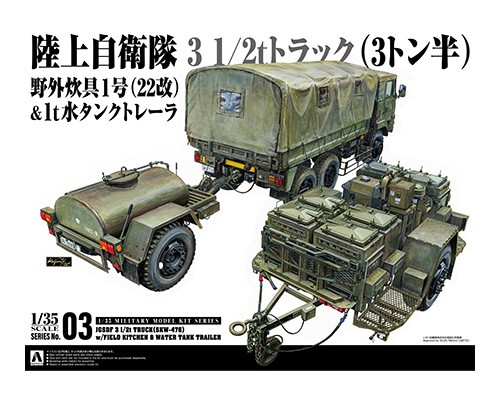 Brand

AOSHIMA

Series

1/35 MILITARY MODEL KIT No.3

Scale

1/35

Release Month

2022.6

Price

JPY9,460‐(tax included)

JAN Code

4905083-058916
Japan's most powerful field kitchen is now available as a 1/35 scale plastic model!
The Ground Self-Defense Force's pride and joy, the "Field Kitchen No. 1", a strong ally that can provide "hot meals" anytime, anywhere, and the "1t Water Tank Trailer", which plays an active role in securing lifelines in the initial response to disasters, are now available as 1/35 scale models! The 3 1/2 ton truck (3.5 tons) included in this kit is the "SKW-476" type, and can be assembled with the front steering wheel movable, the rear axle movable gimmick, and the cab and cargo cover removed. The trailer can be recreated as a towing scene, making it suitable for a variety of scenes and situations.
Size: 3 1/2t truck: approx. 205mm
Field kitchen No.1: approx. 140mm
1t water tank trailer: approx. 110mm
Movable front wheel steering
Movable rear axle gimmick
One figure of the captain and one figure of the pilot included.