MAZDA NB8C ROADSTER RS '99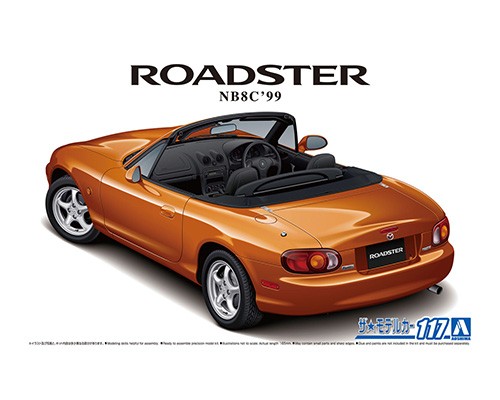 Brand

AOSHIMA

Series

MODEL CAR No.117

Scale

1/24

Release Month

2019.10

Price

JPY2,860‐(tax included)

JAN Code

4905083-057926
MAZDA NB8C ROADSTER is the second generation of lightweight two-passenger roadster, Eunos Roadster.
While it kept the same proportions of its predecessor, the retractable headlamps were deleted and the body stiffness and suspension were improved,
it fascinated many sports car fans by its high quality.
This kit replicates MAZDA NB8C ROADSTER in catalogue specification.
The roof is selectable between convertible, hard-top and soft-top. Both left-hand and right-hand drive also can be chosen.
With masking seal and aftermarket wheels, you are able to build the kits of your preference.