JAPAN NAVY BATTLE SHIP MUSASHI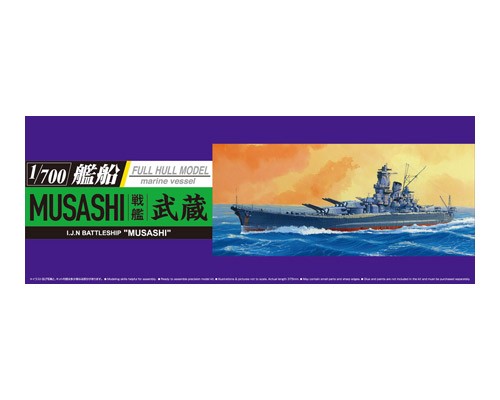 Brand

AOSHIMA

Series

1/700 FULLHULL MODELS  

Scale

1/700

Release Month

2017.9

Price

JPY3,850‐(tax included)

JAN Code

4905083-052648
<Battleship Musashi>

After the Washington Naval Treaty, Japan was restricted from constructing new naval ships. In 1934, Japan renounced the treaty and began developing the Yamato-class battleships.
With displacement of 65,000 tons, 46 cm main guns, speed of 27.46 knots, and total length of 263 meters, Yamato-class would become the world's largest battleship.
As the 2nd ship of the Yamato-class battleship, Musashi was laid down in September 1938 at the Mitsubishi shipyard in Nagasaki. At her launch in November 1940, her massive size caused the water level to rise within the harbor, flooding nearby homes.
After the outbreak of the Pacific War, Musashi headed to Truk in 1943. However, there was no use of battleships in the battle, and was mocked by other officers as 'Inn Musashi'. After the Battle of Peleliu, Japan regrouped its fleet, making aircraft carries the flagship in which Musashi became an escort for. Musashi joined the 2nd fleet and headed to the Marianas, but Japan lost most of its remaining aircraft carriers in the battle.
Desperate to turn the tide, the Japanese military prepared for a counterattack "Operation Sho-1", in which Musashi headed to Leyte Gulf. On October 24, 1944, Musashi was spotted at the Sibuyan Sea and was heavily attacked by more than 100 U.S. aircrafts. After being struck by 20 torpedoes and 17 bombs, Musashi capsized and sank.
In March 2015, the team led by American philanthropist Paul Allen discovered the wreck of Musashi at the Sibuyan Sea. After 70 years after the end of war, her wreckage reminds us of the horror of the battle.