BATTLE SHIP YAMATO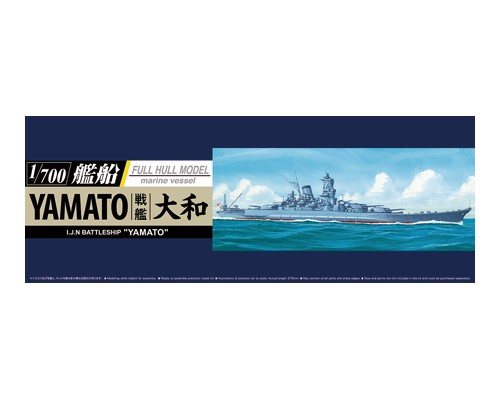 Brand

AOSHIMA

Series

1/700 FULLHULL MODELS  

Scale

1/700

Release Month

2017.11

Price

JPY3,850‐(tax included)

JAN Code

4905083-052631
<About Battleship Yamato>

After the Washington Naval Treaty, Japan was restricted from constructing new naval ships. In 1934, Japan renounced the treaty and began developing the Yamato-class battleships.
With displacement of 64,000 tons, nine 46 cm main guns, speed of 27 knots, and total length of 263 meters, Yamato-class would become the world's largest battleship.
As the 1st ship of the Yamato-class battleship, Yamato was laid down in September 1937 at the Kure Naval shipyard and launched on August 1940. She joined the Japanese Combined Fleet in 1941, becoming the flagship the following year.
After the outbreak of the Pacific War, Yamato participated in various battles in the Pacific. However, there were no use of battleship in the battles, and was mocked by other officers as 'Hotel Yamato'. On February 1945, Yamato was reassigned to the Second Fleet. In April, she was designated to take part of "Surface Special Attack Force" and headed to Okinawa.
April 7th, 1945 came the final day of Yamato. A little past noon, the Japanese fleet were attacked by U.S. aircrafts. After receiving numerous bombs and torpedoes, Yamato exploded, and she sank at 14:23. 2,498 crews lost their lives with Yamato and 276 survived.
In May 2016, a team led by city of Kure began researching the area where Yamato sank. In its 4th research, the team obtained many valuable photographs. After 72 years after the end of war, her wreckage reminds us of the horror of the battle.