1/24 NISSAN ER34 SKYLINE Patrol Car '01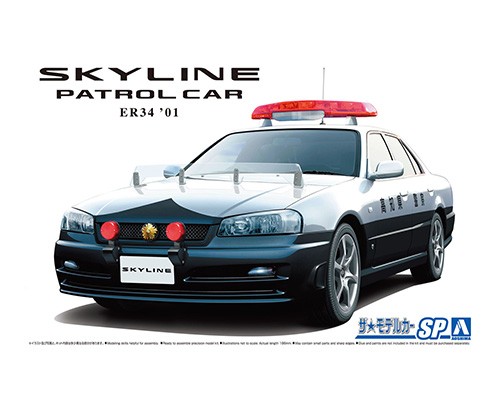 Brand

AOSHIMA

Series

MODEL CAR No.SP

Scale

1/24

Release Month

2020.10

Price

JPY3,960‐(tax included)

JAN Code

4905083-061251
The R34 Skyline, which was born after a full model change in May 1998, appeared with the catchphrase "DRIVING BODY", and in August 2000, it underwent a minor change and became a later model.
The patrol car specification existed from the time of the early type, and it was active in various parts of Japan with the highway team specification of GT-R at the top of the list.
The number of the specification of the highway patrol car of ER34 has been increased from around 2000, including the undercover car, and its presence has raised a great effect as a deterrent.
This kit is a plastic model of the ER34 Skyline late model patrol car, and it is a 3-in-1 kit that can reproduce the specifications of the Kochi Prefecture Police Department, the Osaka Prefectural Police Department and the Saitama Prefectural Police Department, with a focus on the specifications of the Kochi Prefecture Police Department, which is currently in active service in 2020.
In addition to the decals of the three prefectural police departments, special equipment for the patrol car, such as boomerang-type scattered lights, siren amplifiers and front auxiliary warning lights are also included.
Additionally, mask decals for the body and window frame decals for painting the body in black and white are also included, allowing you to build the ER34 Skyline Patrol Car in a more fun and easy way.