BRITISH HEAVY CRUISER DORSETSHIRE BATTLE OF CEYLON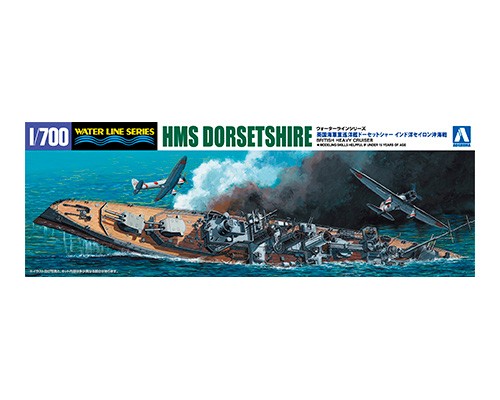 Brand

AOSHIMA

Series

1/700 WATER LINE  

Scale

1/700

Release Month

2018.7

Price

JPY3,800‐(Exc.tax)

JAN Code

4905083-052662
 With displacement under 10,000 long tons, HMS Dorsetshire was built in compliance with the Washington Naval Treaty. Total of 7 Norfolk class (a sub-class of County class) were planned, but only 2; Norfolk and Dorsetshire were built.
From 1935 to 1939, Dorsetshire was assigned to the China Station, but sent to South American waters after the outbreak of World War II. In May 1941, she participated in the hunt for the German battleship Bismarck. At the end of the battle, she fired 3 torpedoes, of which 2 hit the Bismarck, sinking the battleship.
In 1942, she was assigned to the Eastern Fleet. In April 5th, Dorsetshire and HMS Cornwall were spotted, and attacked by Japanese Type 99 carrier bombers off the coast of Ceylon, where both cruisers were sunk.