1/20 SUZUKI SS30V ALTO/SS20 CERVO '79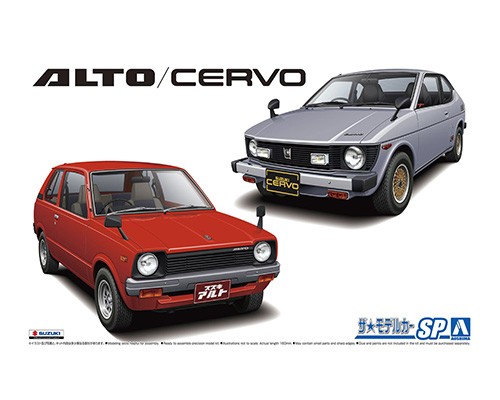 Brand

AOSHIMA

Series

MODEL CAR No.SP

Scale

1/20

Release Month

2019.8

Price

JPY3,000‐(Exc.tax)

JAN Code

4905083-057858
SS30 ALTO was released in May 1979 as brand new model. The ALTO was a sensation when introduced,
largely due to its rock bottom price of ¥470,000 with minimum required equipment. ALTO's success led the Kei bonnet van boom.
SS20 CERVO was introduced in October 1977 as a special car with the new 550 cc engine.
With a 539 cc three-cylinder and two-stroke T5A engine in rear, its ride quality had sports car feeling.
This kit is complete set of SS30 ALTO and SS20 CERVO.
With aftermarket aluminum wheels, 80's style decoration decal and custom parts, you are able to build the kits of your preference.