1/24 NISSAN KPGC110 SKYLINE2000GT-R RACING#73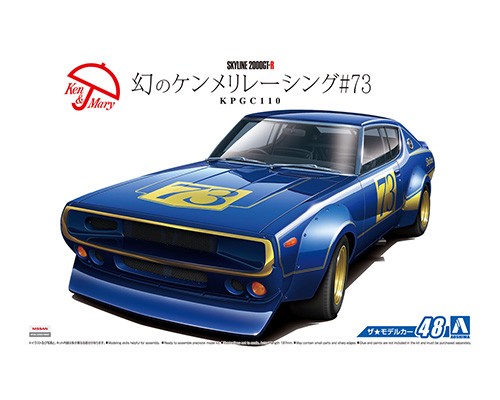 Brand

AOSHIMA

Series

MODEL CAR No.48

Scale

1/24

Release Month

2017.6

Price

JPY2,400‐(Exc.tax)

JAN Code

4905083-053492
 Warrior of illusion,'Ken & Mary'works
After a record of 50 wins of which 49 were consecutive, the Hakosuka GT-R made a full model change to the next generation 'Ken & Mary' C110 Skyline on September 1972.At the 19th Tokyo Motor Show of the same year, 2000GT-R Skyline hardtop with racing spec was displayed. With its large spoilers, works fender and racing colors, there was no doubt that the 2000GT-R was to be successful in circuits.Unfortunately, due to the oil crisis combined with emission regulations, 2000GT-R never took part in circuits its racing image remains only in a racing poster. However, the popularity of the 'unfortunate GT-R' continues to live on in the hearts of fans today.This kit replicates the 'Ken & Mary' GT-R in its racing spec, with the metallic blue color from the racing poster.
The molds for this kit were designed and developed in the 1970s and consequently not at the quality of replication of today's standards. However, with the 'Ken & Mary' specific front fender, front mask and side mufflers, you are able to build a realistic kit of the GT-R racer.